Scansite3D's measuring technology utilizes ATOS® and Breuckmann® structured light 3D scanners, the entire suite of CREAFORM® 3D scanners, and Aicon3D® Phtotogrammetry systems.  These systems enable us to provide many possible solutions to your requirements.
Our CREAFORM® 3D scanners excel on projects with limited access and tight space requirements. Data accuracy is amongst the highest on the market and stability of the measurement set-up is guaranteed by the TRUaccuracy technology, which makes it possible to measure parts in unstable environments.
Reverse engineering & Legacy Part Creation
Quality control/inspection
Measuring for Repair & Maintenance applications
F.E.A. (Finite Element Analysis)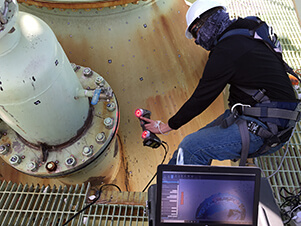 Power Plant 3D Scanning Applications
3D scanning has many applications in the power generation industry.  As facilities age, it is often necessary to scan equipment and create legacy parts for future replacement of refurbishment projects.