Scansite 3D used 3D scanning and custom editing techniques to provide crucial steps in restoring a historic Santa Barbara fountain.
The Spirit of the Ocean, Santa Barbara's iconic and seemingly robust fountain, has been crumbling for decades and is on the verge of collapse. The chosen remedy, after years of discussions and planning, was to replace the sculpture.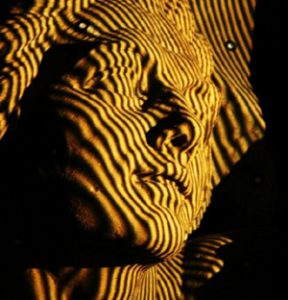 News Item: 3D Scanning and Custom Editing Restore and Replace Courthouse Sculpture
The next big step in the replacement process was to obtain a three-dimensional scan of the existing sculpture, and Lisa Federici and David Bassett of Scansite 3D were in town to complete that step. The 3D scanning process creates a 3D point cloud or polychrome of the surface in the modeling software. The task was finished Tuesday night an hour before midnight. Bassett and Federici placed evenly spaced registry dots on the sculpture and then proceeded to scan, section by section, the entire accessible surface of the sculpture. They performed about 30 scans, each taking 10 to 15 minutes.
The scan wasn't conducted in the dead of night to hide the process. Dark is just the obvious and best time to gather data that relies on controlled light sources. A plywood platform was built for the scanner equipment and personnel. The protective plastic sheet that has shielded the sculpture from this season's weather was removed. Several palm-sized shards from the dolphin-fish head, knocked off by a child climbing on the statue in June, were set aside.
Bassett expects up to 10 days of further manipulation of the scanned images in the software. He traverses the images "patch by patch, spline by spline," ensuring a file that can be used as both an archival record of the sculpture and as the basis for creating a new model for the sculptors to work from.
Scansite 3D's target with the project is to provide a 3D scanned image as close to the original sculpture as possible. One version of the file will go on record with the county for future reference. One will be sent to Satellite Models of Belmont. Satellite will take the scan file, feed it into a CNC milling machine, load the machine with appropriate-sized foam blanks and set the machine in motion.
Read the complete article about restoring Santa Barbara's historic fountain