Scansite creates 3D digital files of the new FDR sculpture and bas relief panels for the Memorial in Washington, D.C.
Memorial for All of Us'; Statue of FDR In Wheelchair Added to Tribute
The Washington Post – Washington, D.C.
Author: David Montgomery
Jan 11, 2001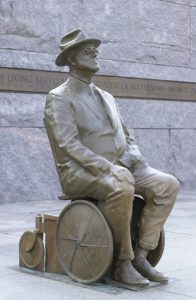 A bronze likeness of a resolute and unashamed Franklin Delano Roosevelt sitting in his wheelchair was unveiled with presidential pomp beside the Tidal Basin yesterday, a powerful and controversial touch added to the 31/2-year-old FDR Memorial.
The refrain on many lips during the ceremony — "He did it all from his wheelchair" — was both a rallying cry for disability rights and a tribute to the president, whose privacy about his condition initially caused planners to omit a depiction of him in the contraption he designed and built with a kitchen chair and bicycle wheels.